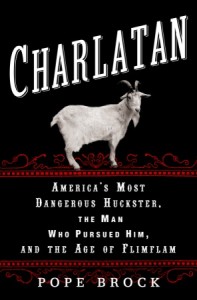 If you've never taken a moment to read the book Charlatan, I highly recommend it. It's set in the late 19th Century, a time when assorted quacks, shysters and hucksters in America made a considerable living from the gullibility of their fellow man.
In many ways, the same can be said about many real estate agents and the needlessly complex marketing plans they will present, all in an effort to obscure the simple reality of real estate marketing – it's not the bright, shiny concepts such as "maximum exposure" that sell homes but the routine, possibly even mundane, use of a handful of proven marketing techniques that will lead to a sale.
While many agents want you looking at their right hand where they talk about the millions of theoretical eyeballs looking at online listings, they simultaneously hope you're not looking at the left where there almost certainly are cracks in their marketing bedrock. (Take it from one who had been there early in his career, confidence crushed by the dead market of 2007).
What are these bedrock concepts?
Competitive, market-aligned price (which can be above or below market depending on demand)
Professional photography that entices the eye of not just buyers but their agents who want to look discerning to their clients
Staging – not necessarily professional, but basic efforts to remove clutter and/or improve a given room's appeal
MLS marketing – not just the simple entry of a listing, but the effort through marketing copy (and the lead photograph) to sell a lifestyle and not just a house.
Skip the make-work and shiny objects – open houses, broker tours, syndication to Zillow and Trulia – and the odds of a given home selling remain virtually untouched. Make a mistake with any of the big four, however, and the chances of a sale are exponentially lower than they should be.
This week, I sold a house in Mesa's Dobson Ranch in three days. Meanwhile, a house down the block languishes. Granted, it doesn't have a garage instead of a carport or a backyard diving pool, but those are the items where price can compensate.
But it's not just about price …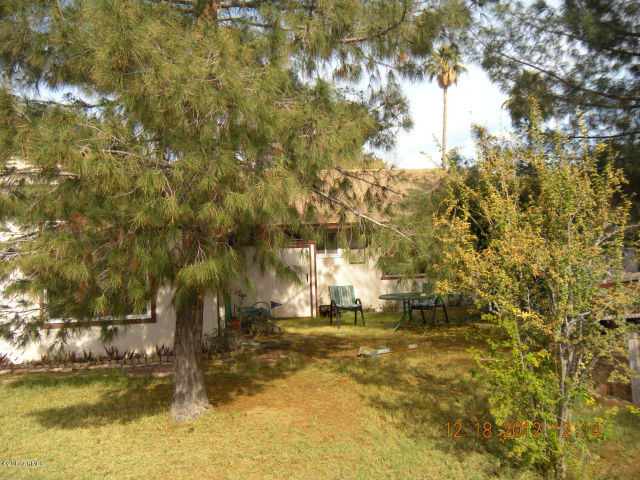 Above is the photo of the backyard of this other house, or at least a portion of it. Note the time stamp which, presumably, does not convey with the house.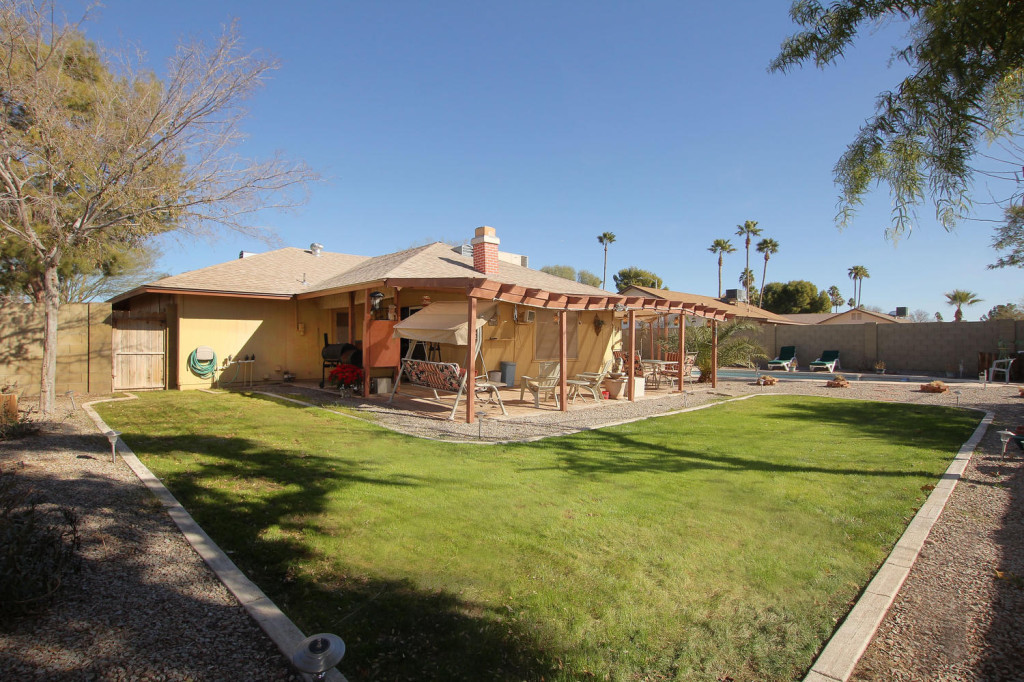 And there's the picture for my listing.
If you're guessing the second home has the bigger lot, you'd be correct. But … it's only a difference of 500 square feet, an extra seven to eight feet on one side of the house.
Professional photography means a lot.
Then there's the description …
3 Bedroom, 1.75 bath home – Dobson Ranch, Mesa, AZ Traditional Sale. This Dobson Ranch home has 3 bedrooms and 1.75 baths. Floors: Wood, tile and carpet. Sunny 7' x 15' Arizona room addition with lots of windows and its own a/c. Ceiling fans throughout and lots of closet and storage space. All appliances including washer & dryer in detached laundry room. Exterior storage shed and additional metal shed. Large grassy backyard. Walk to Dobson High School.
… compared to …
Step outside and enjoy those last weeks of "winter" and beginning of spring in this wonderfully updated home in Mesa's Dobson Ranch. Sit on the extended patio overlooking the grass with your coffee or look to the pool and count the days until summer swimming season begins. And if the night gets too cold, light a fire in the wood-burning fireplace as you stretch out in the spacious family and living rooms. Maybe cook a meal for family or guests in the upgraded kitchen including newer counters, glass-panel cabinets and a smooth-top stove. In the mood for private time? The master bedroom has its own exit to the pool area. Community includes clubhouse, pool, tennis courts and fishing in the community lakes. Built to last by Continental and with the updates you would want in a classic home.
Slight difference, eh?
As I said before, these are the basics. Before falling for the listing presentation flim flam and old soft shoe, take a quick look at what the agent in your kitchen may not be mentioning – the boring basics that, nine times out of ten, are going to make the difference between listing a home and selling one.
And when you're ready to sell, call me at 602-502-9693.