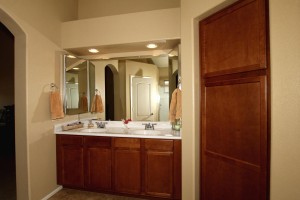 To some degree, the answer to this one's going to depend on the current condition of the home.
If it's habitable – no holes in the wall, no broken appliances, no peeling or seriously stained paint or carpet beyond repair – then the answer likely would be no as a seller never will see a dollar for dollar adjustment in price because of upgrades. Depending on the market, the price change due to upgrading the house cosmetically would be anywhere from 50 to 75 cents on the dollar all the way down to pennies on the dollar.
If major work needs to be done just to get a potential buyer in the front door, that's an entirely different story – by all means, you want your home to show as livable in its current condition if you want anyone other than an investor looking for a fix-and-flip to purchase the property.
One thing to keep in mind – be very aware of the age of your property and the age of your neighborhood. If you have a house built in the 1970s, complete with the utilitarian bathrooms that were built at the time – marble or granite counters likely are a waste of time because, at the end of the day, it's still a utilitarian bathroom. (A pedestal sink, however, could work to make the bathroom look less full.)
Much as Michelangelo looked for the sculpture within the piece of marble with which he was working, you need to work within the bones of the house you have to make the home more attractive without forcing a particular design into an unsuitable property or neighborhood.