Get the Most $$ for Your Home in the Shortest Amount of Time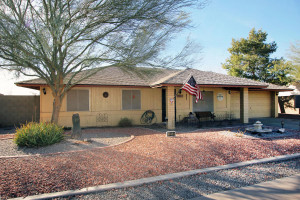 Here is why you need to hire me to sell your home:
Over the past nine years through good markets and bad, my homes have sold in an average of 50 days at an average 98 percent of list price. Recently? That number has fallen to 2 weeks or less and full price for the majority of new listings. The rest of the Phoenix market? An average of 99 days on market and sales at 89.5 percent of list price.
If you're ready to sell, taking the first step takes only a moment. Simply fill out the form below for your free, no-obligation marketing package. If you like what you see – and I think you will – we can have your home on the market in as few as a couple of days.
Send Me a Marketing Kit
"My husband and I have dealt with many realtors, but we have never had one as committed, caring and hard working as Jonathan. Time and time again, working with different perspective buyers, agents and negotiators, he helped us in every way and made everything go as smoothly as possible in such a tough time in our lives." – J. & T. Norton
Did you know more than half of the real estate agents in Phoenix area sell one home or fewer a year?
Would you trust a doctor who sees one patient a year?
There's more to selling a home than planting a sign in your yard so the agent you hire matters in good markets and bad. Even though marketing a home for sale isn't rocket science, only through experience can an agent learn what really works to first get the home under contract and then to ensure the sale goes through.
"Jonathan was very aggressive in selling our property for us. He was on top of every detail, which made for a very smooth transaction. As investors with over 30 properties, I can honestly say that Jonathan is the best Realtor we have run into on both the buying and selling side.
Here's Why You Should Hire Me Today to Sell Your Home
My marketing is designed to get you the most dollars possible in the last amount of time:
1) Custom Built Single-Property Websites
Your home wasn't created with a cookie cutter, so why should the website marketing your property come from one? Using my own WordPress theme, professional photographs and some marketing flair, I create individual websites for all of my listings complete with information not just on your home but on the surrounding area as well.
Click here to see a live example
2) Full MLS listing and IDX syndication
The one thing few real estate agents are willing to admit? The most effective method of marketing a home today is the Multiple Listing Service, just as it has been for the past several decades. Once entered into the MLS, your home will be marketed instantly to tens of thousands of local real estate agents who then will work through their own scores of clients to locate a buyer for your property.
And through Internet Data Exchange, or IDX, your home will be marketed on the website of every local agent who subscribes to an IDX feed.
Of course, entering the listing into the MLS isn't enough. The art of marketing is to make a product appeal emotionally to the consumer. Here's how we do that …
3) Professional Photographs
Rather than trying to explain the difference, take a look for yourself ..
4) Selling the Sizzle …
So many agents simply repeat all of the information contained in the bullet points in a home – they're selling the steak. What you need is someone who's going to sell the sizzle, who can describe not what the house looks like but how it feels to live there … the experience of it all. Want an example?
Great floor plan with 2 bedrooms + den, huge great room, kitchen with breakfast bar and dining are, spacious master suite with double sinks, separate tub/shower and walk-in closet. The home features cherry cabinets with crown molding, stainless steel kitchen appliances, 20" tile flooring, slab granite kitchen countertops, inside laundry, two-tone paint, raised bath vanities with cultured marble tops and so much more!
Or this …
Relax. You're home. Stretch out on the back patio with your morning cup of coffee and soak in the quiet of the desert. You spent no time searching for window coverings and ceiling fans, had no effort wasted setting appointments with landscapers to create a backyard because you skipped the new builds and purchased a lightly lived in, move-in ready home at the Retreat at Arizona Traditions.
Which home do you think sold more quickly?
5) Competitive Pricing
Everything starts with the Competitive Market Analysis, which puts on paper the market averages for homes most like yours in your area. After that, however, is where the real work begins. Knowing what sold before isn't enough. Neither is simply knowing the competition. Properly pricing a home takes those two basics one step further to determine how far, if possible, the market can be pushed while remaining within the reasonable expectations of a lender appraisal.
As an out-of-town seller of an estate property, I needed an agent that could fully represent my listing without me being there. Jonathan could not have been more helpful in getting needed details taken care of and he was able to successfully negotiate a deal with a temperamental buyer. My property was sold and closed more quickly than I expected.
6) Years of Experience
When challenges arise, you need an agent who has handled such situations before. With over nine years in the business, there's little I haven't seen and few roadblocks I can't avoid.
7) The Old Standbys
There's no compelling reason to abandon the old standbys – full color flyers at the curb, a property book on your kitchen counter and the expected For Sale sign in your front yard and you'll get them all.
What I Don't Do …
Here's where the difference comes in. I'm not going to waste your time – a theme you'll see repeated. I'm not going to offer false hope. Below are examples of "marketing" other agents do that rarely (like a couple times out of 100) lead to a sale but always (like 100 times out of 100) either inconvenience you or lead you to believe looking busy is the same as being busy selling your home.
Blanket syndication to advertising sites. Your home isn't going to end up on Zillow, Trulia or Realtor.com where the list price we select runs the risk of being contradicted by the sites' highly flawed automatic valuations. Neither of us would put an "Overpriced" sign rider in front of your home and we're not going to post the online equivalent either. For more on the mythology of syndicating your homes to these sites, click here.
Broker Tours. These caravans have been in place since the dawn of time, back before there was an electronic MLS where agents could see the new inventory within minutes of it being listed. No agent – NO agent – waits until the broker tour to see if there's a home for his buyer. He checks the MLS daily and then visits the home his or herself without waiting for the parade. By skipping these tours, I'll be preventing you from collecting a dozen or so business cards from agents who came along for the free donuts. But I'll also be saving you considerable time and not raising your expectations unfairly.
That's the rundown. To schedule your appointment to get your home not just listed and marketed but sold in the shortest amount of time for the highest dollar amount, call me at 602-502-9693 or e-mail me at info at allphoenixrealestate.com and I'll get to work for you!