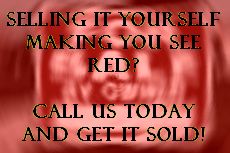 There are many reasons why people decide to sell their home on their own:
I don't want to pay a commission.

I want to pay a lower commission so I'll cooperate with agents.
Buyers are online and I can advertise online. Who needs an agent?
My last agent(s) didn't sell the place and I know I can do it better myself.
I know what my home's really worth and want to sell it for that amount.
Or maybe it's a combination of two or more of the above reasons. Whatever the motivation, here are a couple of things to keep in mind when you're selling a home yourself.
1) Privacy in Online Marketing
If you're going to list your home for sale on Zillow or craigslist, be smart and don't include your phone number on the listing. Craigslist is a scammer's paradise and, when it comes to real estate, the scammers often rely on the for sale listings they see on Zillow to create their rental scams on craigslist.
Keep as much of your personal information as possible personal.
2) Know Your Audience
Years ago, I listened to a flat-rate broker explain to an audience the myth of "maximum exposure." It took another year or two to understand what he meant … and know I'll share that with you:
The key to selling your home isn't maximum exposure – it's targeted exposure to buyers and those working on their behalf looking specifically for a home like yours.
The millions of visitors that use Zillow every month are meaningless to you as a seller unless they're looking at your home. Keep an eye on the number of times your home listing has been viewed and adjust your marketing material (and perhaps price) as needed until your home sells.
As for some ideas on the marketing …
3) Professional Photographs
Rather than trying to explain the difference, take a look for yourself ..
4) Sell the Sizzle, Not the Steak
Don't make the mistake of repeating all of the information contained in the bullet points in a home – you're selling the steak. What you need is someone who's going to sell the sizzle, who can describe not what the house looks like but how it feels to live there … the experience of it all. Want an example?
Great floor plan with 2 bedrooms + den, huge great room, kitchen with breakfast bar and dining are, spacious master suite with double sinks, separate tub/shower and walk-in closet. The home features cherry cabinets with crown molding, stainless steel kitchen appliances, 20" tile flooring, slab granite kitchen countertops, inside laundry, two-tone paint, raised bath vanities with cultured marble tops and so much more!
Or this …
Relax. You're home. Stretch out on the back patio with your morning cup of coffee and soak in the quiet of the desert. You spent no time searching for window coverings and ceiling fans, had no effort wasted setting appointments with landscapers to create a backyard because you skipped the new builds and purchased a lightly lived in, move-in ready home at the Retreat at Arizona Traditions.
Which home do you think will attract more buyers and sell more quickly?
5) For Sale Signs
At the end of the day, all you want is for someone to either drive by your house or pick up the phone and call you. So don't write a whole bunch of information on a For Sale sign and stick it on the side of a major road where no one can possibly read the small lettering you've used in your excitement to share everything.
Stick to the bare basics and get someone to pick up the phone to make an appointment. No one's going to buy a home based on what the sign says.
6) About Broker Cooperation
It's a nice concept and a way to conceivably save half the commission (roughly) if the house sells. At the same time, virtually no broker or agent spends their time looking at unreliable sources such as Zillow and craigslist to find properties for their clients, not when so many homes are advertised in the MLS. So keep in mind, you're offering something to a group of people who aren't going to see what you're offering. Or your home, for that matter.
Now, if you've been doing it yourself …
And are tired of waiting for the right buyer to happen across your property, there's one step you can take today to move you closer to getting your home sold. And that's calling me. Through good times and bad, my listings have sold in an average of 56 days at 98 percent of sales price. It's not coincidence.
To schedule your appointment to get your home not just listed and marketed but sold in the shortest amount of time for the highest dollar amount, call me at 602-502-9693 or e-mail me at info at allphoenixrealestate.com and I'll get to work for you!
CMA Contact