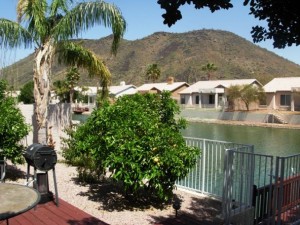 The basics of real estate marketing are the basics for a reason – through good markets and bad, both in this online age and before, there are certain things that help homes sell more quickly. We've got those bases covered as well …
A Thompson's Realty sign in your front yard. Google "Phoenix Real Estate" and our Phoenix Real Estate Guy website comes up on Page 1. Imagine leveraging the power of the best internet-savvy brokerage you may not have heard of to get your home sold.
Property flyers. Most of these are going to go to your neighbors, no question. But some will make it into the hands of buyers, either directly or when your neighbors call someone whose looking for a home to tell them about the great house down the block.
Arizona Regional MLS listing. The reality of real estate is in 90 cases out of 100, another agent will be delivering the buyer for your home. With entry into the MLS (and with the professional photos to make your home pop), your property is advertised to tens of thousands of real estate agents all with buyers looking for homes.
IDX. In short, Internet Data Exchange allows your home to be marketed on the website of any ARMLS member agent who has signed up for the feed – this means your home is going to be advertised on thousands of local websites as well as my own AllPhoenixRealEstate.com site until we find a buyer for you.